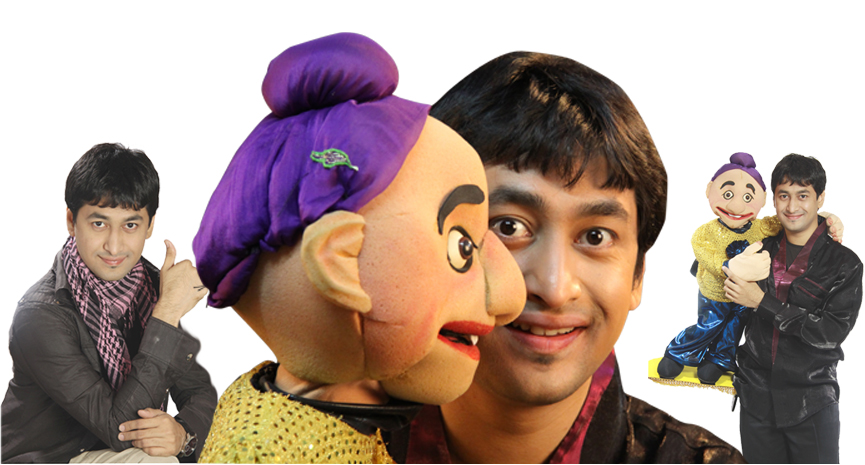 CA Satyajit Ramdas Padhye is the 3rd Generation Ventriloquist and Puppeteer. He got interested in this art of puppetry from childhood.He is Chartered Accountant, but is now a Professional Ventriloquist,Puppeteer and Puppet Maker.
With his razor sharp wit rib-tickling humor, Satyajit has reallyarrived on the scene of Indian entertainment. He has capacity to instill fresh ideas and approaches in the performing act of ventriloquism and puppetry for the younger generations.Satyajit was honing his skills of puppetry and ventriloquism for the last five years before giving his first solo performance.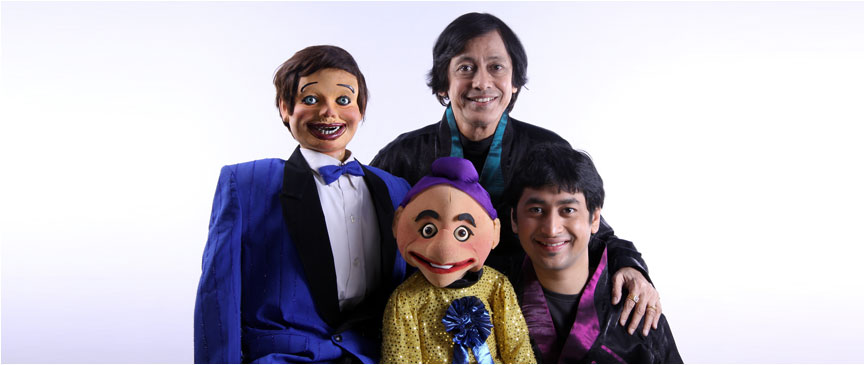 Satyajit has learnt the art of Ventriloquism & Puppetry from his father Mr.Ramdas Padhye who is India's Leading Ventriloquist, Puppeteer & Puppet-Maker and performing for more than 45 years.
Ramdas Padhye and Satyajit Padhye are father-son duo and Puppet Design and Performance based team in Mumbai.They are Puppeteers in Mumbai who design Custom Made Puppets, Masks, Talking Objects, Any Speciality Props for Television, AD-Films, Feature Films, Music Videos, Events or for any Entertainment Requirements.
Finalist of India's Got Talent on Colors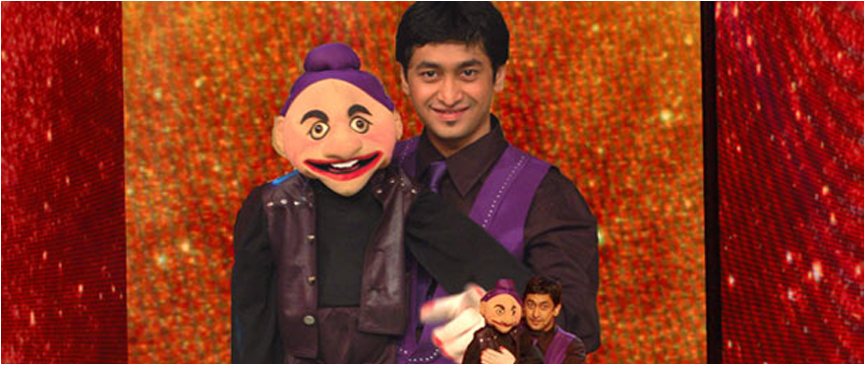 Satyajit Padhye was the Finalist of India's Got Talent, a popular reality show produced by Synergy Adlabs for Colors Channel in India.In his main auditions he performed an act with a double headed politician puppet. The judges Shekhar Kapur,Kirron Kher Sonali Bendre praised him for his performance.His puppet show in India's Got Talent won him accolodes from the judges.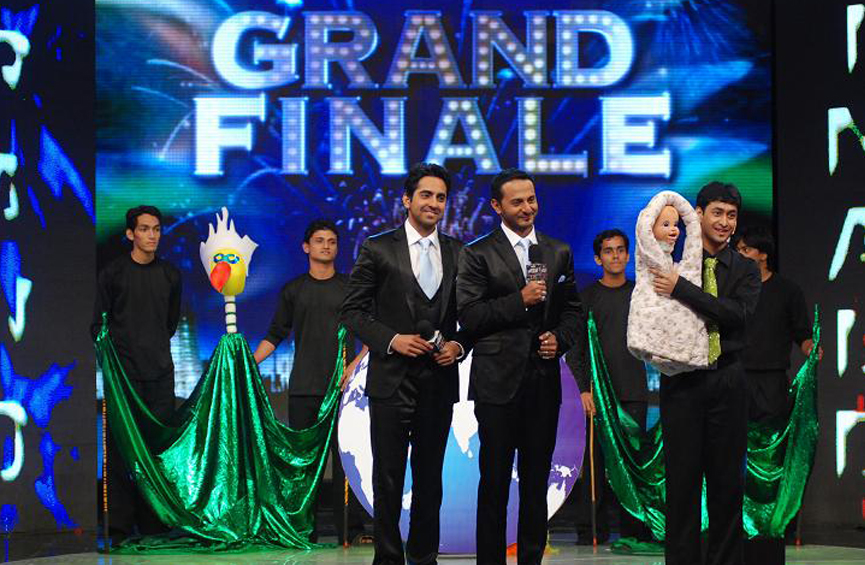 >
In the Grand-Finale of India's Got Talent, C.A. Satyajit Padhye performed an act based on the theme of Global Warming. He performed with two puppets, Chotu Singh and a bird puppet.Kirron Kher told him that every performance of him is different & original from all his previous performances. Satyajit also declared about his future plans on the show. He plans to open an institute of Ventriloquism, Puppetry & Allied Arts which will give a boost to the art of Ventriloquism Puppetry.
On Kaun Banega Crorepati Season-5 with Amitabh Bachchan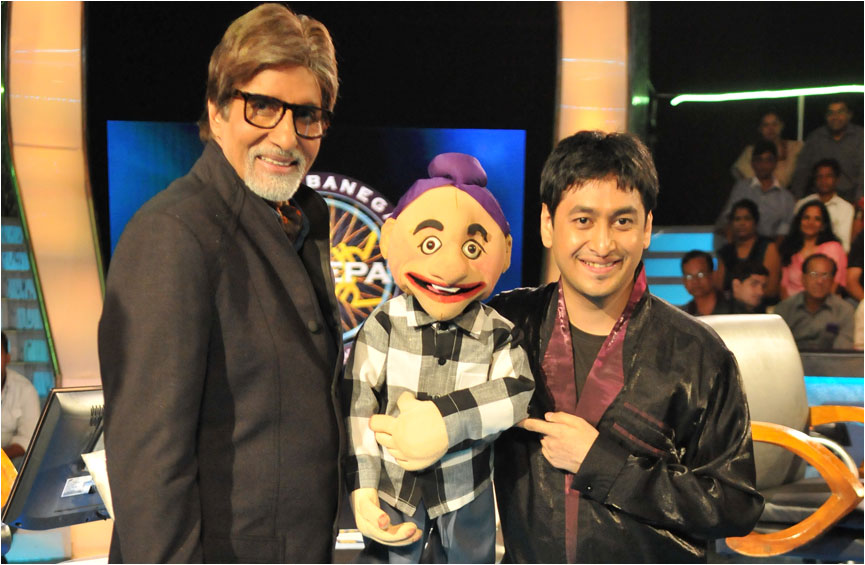 Ventriloquist Satyajit Padhye was also invited alongwith his puppet Chotu Singh on Kaun Banega Crorepati-Season 5.They entertained the audience with their witty humour and made everyone laugh out in appreciation.Chotu Singh made a very interesting comment about the Common Man in India which was appreciated by the audience and by Amitabh Bachchan himself.

Amitabh Bachchan's interacted with Chotu Singh and asked him questions to which he replied in his witty style.
On Bigg Boss Season 8 with Salman Khan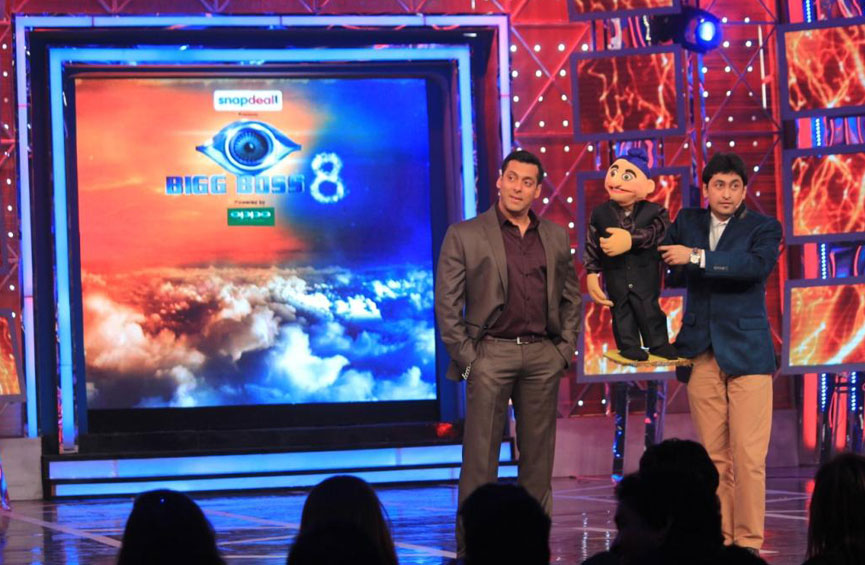 Satyajit and his puppet Chotu Singh were specially called on Bigg Boss Season 8 to interact with the contestants on the show during the Weekend ka Vaar with Salman Khan. Mr.Salman Khan introduced Satyajit and his friend Chotu Singh on the stage who took digs at various contestants which evoked laughter amongst all.


India Puchega Sabse Shaana Kaun on &TV with Shahrukh Khan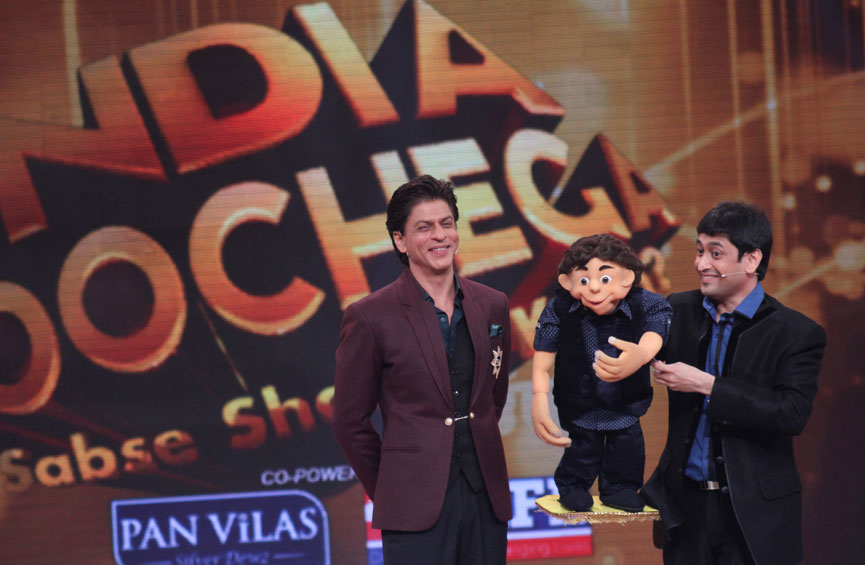 Satyajit Padhye was invited on India Puchega Sabse Shaana Kaun on &TV to perform a Special act with Shahrukh Khan


Hosting Red Carpet of Star Parivar Awards 2013
Satyajit hosted a special segment of Star Parivar Awards 2013 with a Custom Designed Puppet.He created a character called "Saaso ki Saas" who interviews different celebs on the red carpet.
Puppeteer for the Feature Film "Zapatlela 2" by Viacom18Motion Pictures
Satyajit assisted his father Ramdas Padhye for the film "Zapatlela 2" by Viacom18Motion Pictures directed by Mr.Mahesh Kothare.The film broke all box office records.The protagonist "Tatya Vinchu" was operated by Ramdas, Aparna and Satyajit.The puppet is designed by Ramdas Padhye in his Puppet Studio.Satyajit also looked after the animatronic movements of the character.This is the first Marathi movie in which Animatronic Puppet has been used.
At the age of 13, Satyajit started as an assistant puppeteer assisted his father for the play Good Night Baby Dino which was directed by Ad-man Bharat Dabolkar. From then on,he has been working along with his father on number of projects which includes various ad-films, movies , puppet serials and puppet plays. He was one of the lead puppeteers for the music video Maine Payal Hain Chhankai. He also assisted his father for the film Dil Hai Tumharra.Recently he did a T.V series for Disney Channel for which he was one of the lead puppeteers.
Satyajit Padhye is a Chartered Accountant. He is from R.A.Podar College and has represented his college at various inter-collegiate festivals. His performances at Malhar Youth Festival won him accolades. He has performed number of shows in his college. He has also represented "INDIA" at Japan Ventriloquist Festival,one of the prestigious events in Puppetry World held at Tokyo along with his father. Satyajit also participated in World Festival of Puppet Art in Prague, Czech Republic where he presented the show of 150 Years Old Puppets of Pioneer Indian Dramatist Vishnudas Bhave amongst 50 countries from around the world.
Digital Puppetry Project at Adlabs Imagica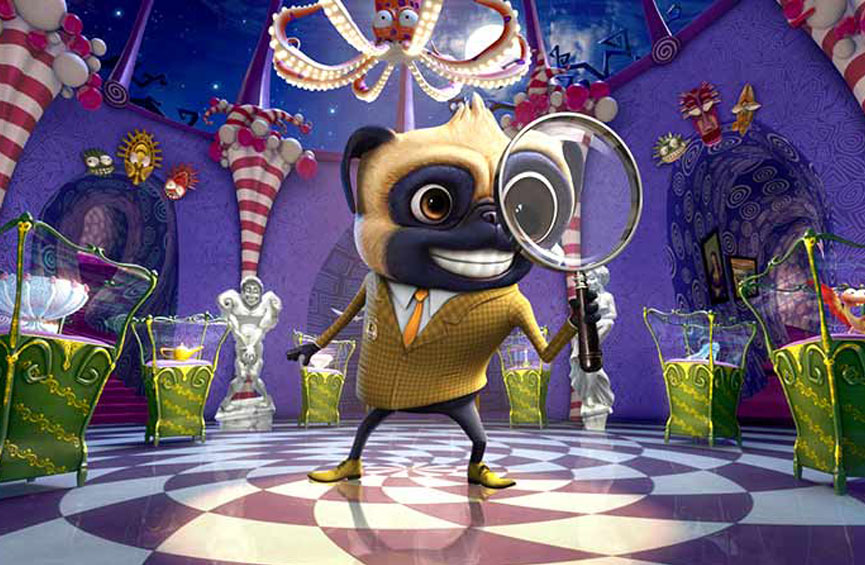 Satyajit was the incharge of the Digital Puppetry Project where he directed the entire show called "Bow Wow Show" and trained 4 puppeteers for this attraction.He was specially called by Mr.Manmohan Shetty and Aarti Shetty of Adlabs Entertainment for this project. This technology is new and very few people know this puppetry rig and Satyajit was one of them who knew the intricacies of this system.


Representing INDIA at VentHaven Convention,Cincinnati,U.S.A.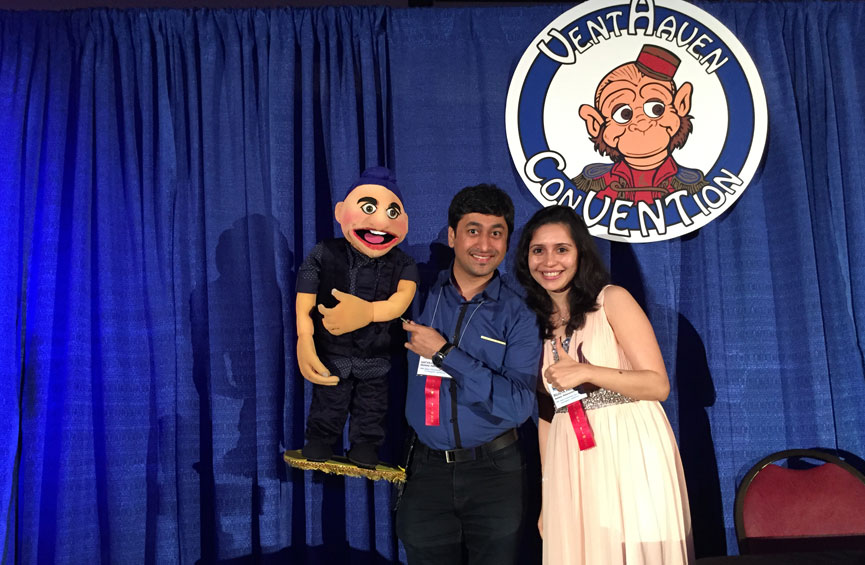 Satyajit presented his act at the Wayang World Puppetry Carnival with his wife Rujuta.They both presented the act and performed on a musical number with puppets.They combined Ventriloquism, Puppetry & Dance in the act and won accolades from the local Indonesian audience.
Representing INDIA at World Puppetry Festival in CHINA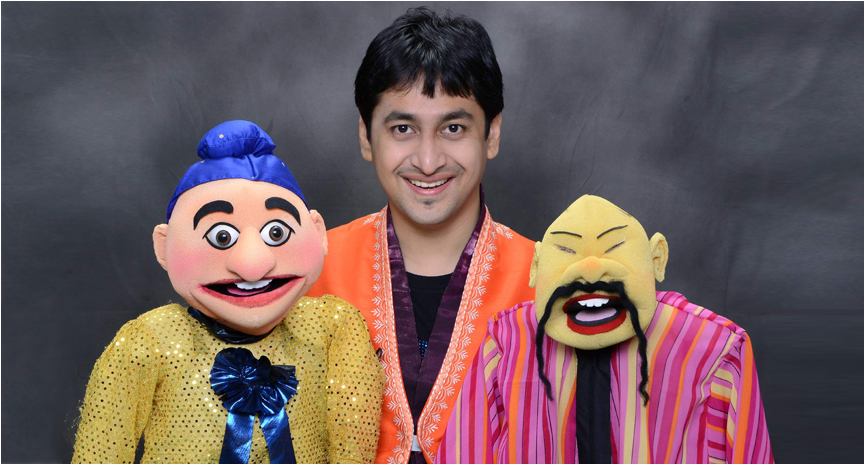 Satyajit is the First Indian Ventriloquist to represent "INDIA" at the UNIMA World Puppetry Festival in China where 74 countries participated.He performed his show in English & Chinese and also won the "Best Entertainment Act" Award at the Festival.
Achievements on College Campus:
Performing Ventriloquism & Puppetry Shows in College before the dignitaries.
Represented College at Inter-Collegiate Festival "Malhar 2003" & won the SECOND PLACE for the event "Comic Stands"
Made a Professional Quality Puppet called "Rapster" as Mascot for RAPPORT 2003, which was the anchor for various events in the festival.
Represented College at Inter-Collegiate Festival "Malhar 2003" & won the THIRD PLACE for the event "Surkhiyan"
Participated in "Hindi Skit" for the Youth Festival(2003-04) organized by University of Mumbai
Professional Achievements :
Performed First Ventriloquial Show at the age of 10.
One of the lead Puppeteers in a Professional Puppet-Play called "Good Night Baby Dino" directed by ad-man "Bharat Dabholkar" and sponsored by "Good Night"
Lead Puppeteer in another Professional Puppet-Play called "Hats Off".
Assisted his father "Ramdas Padhye" by operating his puppets in super-hit music video "Maine Payal  Hai Chhankai" by Falguni Pathak.
Represented "INDIA" along with his father at Japan Ventriloquist Festival held at Tokyo in Nov, 2002.
Performing Individual Ventriloquism & Puppetry Shows at various functions & events, thereby spreading this art of Puppetry & Ventriloquism in India.
Scripting, Directing and PresentinAct".
Special Shows for children in all International schooppearance as Ventriloquist in a Marathi musical orchestra called "Swar Panchm".
Assisting his father at Lux Zee Cine Awards, 2001 for a show performed with Shahrukh Khan & Anil Kapoor.
Assisting his father for operating a puppet in the film "Dil Hai Tumhara" directed by Kundan Shah starring Preity Zinta &  Jimmy Shergill.
Lead Puppeteer for Puppet serial produced for Singapore T.V.-12
Helping his father in making Professional Quality Puppets in their "Puppet Workshop" for various projects.
Lead Puppeteer for a show "Juicy Pammi" on ZOOM Channel
Represented "INDIA" at the World Festival of Puppet Art, Prague in June 2006 where 50 countries from around the world presented their shows.
Lead Puppeteer for an Ad-Film for a Holland T.V. Channel.
Special Puppet Film titled " AIDS – The Deadline " which is the first puppet film in India which creates awareness regarding AIDS & HIV.
Lead Puppeteer for show called "Big Bada Boom" on Disney Channel.
Lead Puppeteer for corporate show for Siemens organized by Wizcraft.
Puppeteer for a Puppet Film for ISKCON.